Transferable to another pet.
Update pet information 24/7 from anywhere.
Scan tag with any smart phone or tablet.
Instant access to your pet's profile information anytime.
Over 25 pet profile options including microchip information. No need to have pet scanned at the vets.
Upload certificates and records to profile and view/download when needed.
Tag is permanent and highly water resistant.
If traveling, enter current location and phone number in pet's profile so you can be contacted quickly.
Enter up to five phone numbers and three addresses for friends and family. Tapping a phone number in the profile automatically calls that number.
If you're not available, enter another location to take your pet if lost.
Any veterinarian world-wide can scan tag and download pet's vital information.
1. Sign Up for Our Service
It's fast, easy and only costs $6.50. Once your account is created, you'll have instant access to your Dashboard, unique QR code generated specifically for your pet and QR Smart ID card and tag stickers that can be scanned at anytime, anywhere around the world.
2. Look for Your Pet ID Tag Stickers in the Mail
Within 10 days, you'll receive a set of 20 special QR permanent waterproof stickers in the mail. They're small enough to place on your pet's current ID tag or collar. If a sticker wears out, just replace it with a new one. Reorder a new set anytime for free!
If pet goes missing, anyone who finds it can scan the QR code and the information you provided (such as your contact number and other specific info) is instantly available.
No other pet identification system delivers a faster way to reunite you with your pet or get them to the help they need in a timely manner.
3. Log in and Fill Out your Pet's Information
It's time to set up your pet's profile. Simply login using the user name and password you created at sign up and click on the Pet ID link in your Dashboard. Upload a picture, fill out any of the 25 types of information available and click Save. You're all set!
You control your pet's information and can update it anytime from anywhere. Additionally, a veterinary clinic can download your pet's complete profile and integrate it right into their digital or physical file system.
4. Test Your QR Code
Using your smart phone's QR scanner app, scan your pet's QR code. Their information will immediately appear. You're pet is now protected!
Why Use Pet ID Global QR Tags?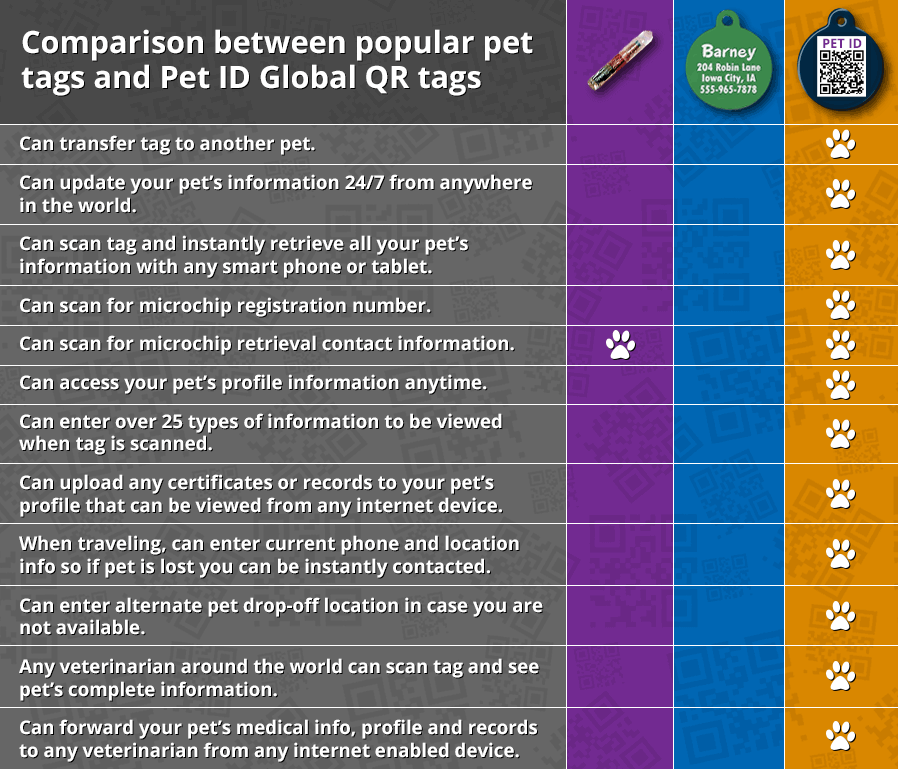 You can provide over 25 types of information in your Pet ID Global viewable profile
All fields are optional.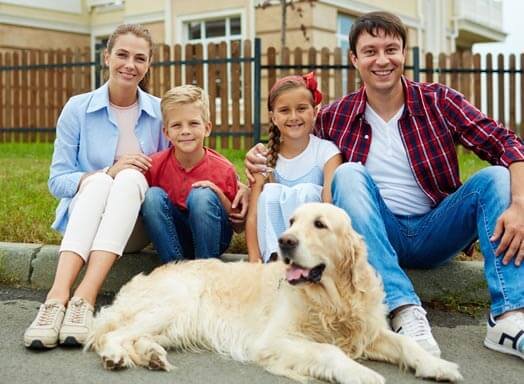 Pet's name
Age
Birthday or adoption date
Spayed or neutered
Gender
Weight
Color
Owner's name
Up to 5 phone numbers (relatives, friends, etc.)
Up to 3 addresses
Where I'm at now (current location you're at when traveling, phone number where you can be reached)
Microchip registration number
Microchip recovery phone number (can call and get pet's information)
Microchip recovery website address (for pet information retrieval)
Name of veterinary doctor and clinic
Vet's phone number
Special needs, disabilities, traits, fears, etc.
Medication list
Types of food your pet eats regularly
Instructions where to take your pet if you can't be reached and it needs to be dropped of somewhere
Other information
You can also upload any documents to your pet's profile including x-rays, certifications, vaccination records, documented behavioral history, photos, etc. (useful when going a vet)
All data and documents can be downloaded and forwarded via email, text message or directly to any vet or shelter.